As part of the Unified Community Platform project, your wiki will be migrated to the new platform in the next few weeks. Read more here.
Radio Challenge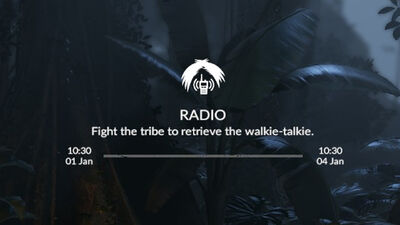 Radio Challenge is a game mode added in V.0.4.0 to Green Hell
The Radio Challenge requires the player to find and collect a working walkie-talkie within a 3 day time limit. The player will begin the game with basic starter blueprints and will need to gather materials in order to craft weapons and tools.
The player will need to find each part needed to make the working walkie-talkie. The coordinates of the each item required are shown at the top left of the screen.
Radio Challenge tests the players survival and combat skills in order to tack down and recover the walkie-talkie from the natives.
Once the working walkie-talkie has been collected the Radio Challenge will be completed.
Time Limit: 3 Days
Starting Location: 45'W 16'S
Objective: Collect a working walkie-talkie
Objective Locations:

Walkie-Talkie (without battery) 47'W 17'S
Battery 37'W 18'S
| Version | Changes |
| --- | --- |
| V.0.4.0 | New Challenge – Radio. |
---