As part of the Unified Community Platform project, your wiki will be migrated to the new platform in the next few weeks. Read more here.
Rash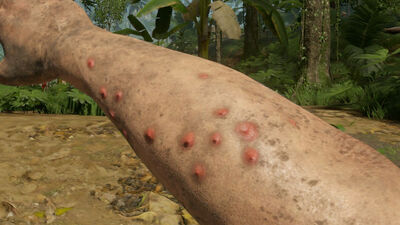 A rash is a area of skin that has become irritated, causing small red bumps on the player skin. Having a rash is usually not fatal, however it will temporarily reduces the players sanity as long as the rash persists.

When the player first receives a rash they will yell and itch the affected areas. The inspect icon will also be displayed above the health meter on the left side of the screen.
You can get a rash when coming into contact with aggressive insects such as the Brazilian wasp and ants.
To prevent this from happening it is best to avoid going too close to anthills or wasp nests. Alternatively, using a torch will help prevent ants and wasps from attacking the player, whilst collecting items from the anthills or wasp nests.
The Rash will naturally heal over time.
To speed up the healing process it's recommended to place a bandage with antihistaminic properties such as an Lily Dressing or Honey Dressing to the affected area.
Version
Changes
V.0.3.0
Rash now blocks healing.

Rash now last longer.

V.0.1.3
Worms, leeches and rash no longer block healing process.